What I Am Up To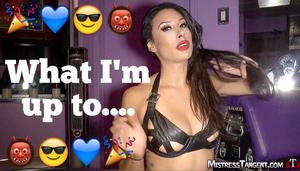 A little update on my agenda this week and next, then things to come!
**To clarify: In the video, when I say I'll be "Camming," I mean I will be doing a cam show soon - it will be for the MEMBERS of My site ONLY. Keep your eyes peeled - I'll announce when, this week.
Go check out this video Here.
If you want daily (or darn close) updates/ pics of Me - Follow me;)

I also will put travel updates on Hogspy soon – so you can also catch me there! Hogspy.com
For Sessions:
If you are interested in seeing me for a personal fetish session, contact me before I come to your area. BE SURE TO INCLUDE your location to which I will be traveling to, interests, limits, and any other questions you may have for me.
Click here to apply for a session.
For any other inquiries, you may Contact Me Here